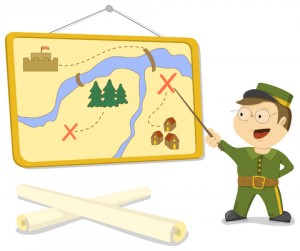 What is your POA, or Plan-of-Attack? Better yet, it is time to think about the actions that need to be taken in order to land your dream job.
Do you know where to start? I know you may be thinking, "Where do I even begin?" It is important to not let this process overwhelm you. Think about this next step as a career launch into the future or better and brighter days to come. Going to work should be fun, enjoyable and leave you feeling satisfied with the effort you dedicate to your job each day.
Your Plan-of-Attack should be started today. For those students graduating within the next year, you must realize that landing a job is difficult, but certainly worth the effort. When creating your own personal POA, think about the specific dates and times to make a personal contact, send out your resume, or follow-up with a thank you note, to name a few.
Starting now…
Plan-of-Attack:
1.
Contact all companies by phone or email
2.
Develop a relationship with employer
3.
Send your resume, cover letter, curriculum vitae
4.
Share your interests in the company
5.
Think about how you would 'fit' the job description
6.
Examine your previous experiences that make you qualified for the position
7.
Get to know an employer on a personal level
8.
Email and follow-up with a hand written thank you note
9.
Express your interest in a specific position after graduation
10.
Create new and innovative ideas that you can bring to the company
11.
Be one step ahead of other applicants and have questions prepared
12.
Analyze how you can bring about interest, promotion, and membership within the company
13.
Express interest in an interview
14.
Land the job interview
15.
Sell yourself at the job interview
16.
Receive an offer for a position
17.
BINGO: Start working for your dream company
Remember to keep in touch with old contacts, even though you may be happily employed. You never know when a previous professional relationship or co-worker may be beneficial towards landing a future position. Keep your options open. You must be resilient at work, because you never know a given job situation may change and that you may need to mold yourself into another role to remain working for your dream company.
Here are a couple of resources from Career Development Services to help you continue moving forward:
CDS Intern '11